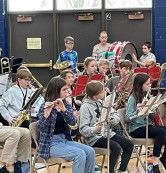 SALSA Band Program Information
SALSA (Sheboygan Area Lutheran Schools Association) band is open to all 5th to 8th grade students that attend the 5 area Lutheran School and St. John the Baptist Catholic School in Plymouth. Learning to play a musical instrument is a valuable experience for your children. Through it they will enjoy working with other children; they will come to appreciate good music through familiarity with specific compositions; they will receive enjoyment and a sense of satisfaction by being a member of a musical group.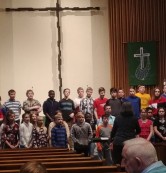 Bethlehem Music and Choir
Bethlehem Lutheran School has a proud music tradition. Students sing in two choirs (Cherub-5K to 3rd & Jubliate-4th to 8th). These students sing at church services as well as National Lutheran Schools Week. Some students also participate in the SALSA Music Festival in March where they compete in solo and ensemble groups.
There is also music class for grades 1st to 8th in which students learn general music knowledge. As a prelude to instrumental lessons, the recorder is introduced to all students in grade 4 as part of our classroom music program.
Band Information for 2022-2023
Each student should have a folder in which all band music, green sheet, and lesson materials are kept.
Practice should be a minimum of one hour per week, arranged to fit your family's schedule.
(10 minutes 6 days per week, OR 20 minutes 3 days per week, OR 15 minutes 4 days per week, etc.)
Rehearsal Times
All Sheboygan Schools & Sherman Center
Grades 5 & 6 6:30 - 7:15 pm Thursdays at Lutheran High School.
Grades 7 & 8 7:15 - 8:00 pm Thursdays at Lutheran High School.
Lesson Days: Lessons at Bethlehem will be held during the school day on Mondays & Fridays.
Important Dates for 2022-23
Christmas Concert, Thursday, ____________. 7:00pm at Sheboygan Lutheran High School.
SALSA Music Festival, _____________ at Sheboygan Lutheran High School.
Upper Grade BLS Musical - Thursday ________, 6:00pm & Friday ______, 11:00am at Bethlehem Lutheran.
Spring Concert, Thursday, ___________, 7:00pm at Sheboygan Lutheran High School.