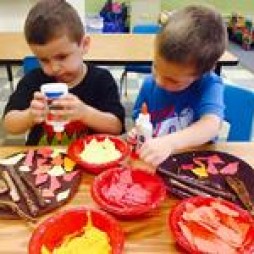 extended care
Extended Care is open all day for children ages three and four from 7 a.m. to 5:30 p.m. This allows children to be in class three or five days a week and still have a place to go when class doesn't meet. For students in grades 5K to 8th, care goes from 7 to 7:55 a.m. before school, and after dismissal, from 3:10 p.m. until 5:30 p.m.
Extended Care Program Activities
Discovery Play/Table Time
Crafts/Projects
Snack/Lunch
Group Activities
Outdoor/Gym Play
nutrition
Breakfast will not be served. A snack consisting of a drink and a variety of cookies, crackers and/or other healthy snack foods will be provided mid-afternoon and after school by Extended Care.
Lunch time is at 11:30 a.m. Students wanting to take hot lunch or milk need to have a lunch and/or milk ticket purchased through the Bethlehem Lutheran Lunch Program. The Federal Free and Reduced Lunch Program is available for those who qualify.
rest
Children ages three and four will be given the opportunity to rest after lunch. Each child will be given a cot to rest upon and should provide a blanket if they wish to have one.
cost
Extended Care fees are based on an hourly rate of $4.50 per hour, per child.
For more information, please contact the school office.